Update: After a successful launch, test flight, and landing, the successful rocket exploded on the pad. I guess that one will not be re-used 😉 . Despite the grand finale, the overall message of the test flight was that the Starship with its Raptor engines is here to stay.
The new Raptor engines for the experimental SpaceX Starship performed their duties with flying colors throughout today's successful test launch and stand-up landing. Looking as if it had gone through the routine a thousand times before, the three powerful new engines ignited on cue. Then as the craft neared apogee (the highest point of 10 km), the engines shut down one by one. At 10 km with all engines off, the craft settled down into a horizontal glide attitude and fell in spectacular fashion. At about 500 meters, all three engines re-ignited without a sputter, and the rocket again took a vertical attitude for landing. Then, two of the three engines shut down on cue as the craft settled in for a flawless landing on the single remaining Raptor engine.
It was a fine demonstration of spanking new rocket technology and showmanship. Sure, it was only a 10 km test flight, but from the way it looked today, the Starship with its Raptor engine is well on the way to Mars and beyond.
More on the runup to today's test flight.
More on the Raptor engine:
Raptor has a much higher pressure than Merlin, about three times greater, making it the highest pressure rocket engine in existence and leading to its aforementioned larger thrust than Merlin despite its similar size. In 2016, Musk referred to the "insane pressure" inside the main chamber of the engine, 300 bars, which required the development of a new metal alloy.
Of course, Raptor's other major innovation over its predecessor is the use of methane, which harkens back to SpaceX's ultimate goal. SpaceX isn't the only company moving to methane, as rival firm Blue Origin – headed by Amazon CEO Jeff Bezos – is also developing its own methane engine, called the Blue Engine 4 (BE-4). With numerous benefits, it's a switch that almost seems long overdue.
Most previous rocket engines have relied on using fuels like kerosene in place of methane. But the main benefit of using methane is that it has a higher performance than other fuels, meaning the rocket can be smaller. Its lower cost, too, means the total cost of launching can be brought down.
This could be crucial, because the number of Raptor engines SpaceX is looking to build is immense, to say the least. Each Starship vehicle is designed to fly with six Raptor engines, along with 35 on the Super Heavy rocket – a total of 41 per launch. SpaceX's biggest rocket so far, the Falcon Heavy, launches with 28 Merlin engines (27 on the bottom and one on the upper stage). With the number of launches SpaceX is planning for Starship and Super Heavy, their rate of production will need to increase significantly.

"Since they're using so many of them on the Super Heavy vehicle, they're going to have to be ramping up manufacturing to an absolutely insane pace," says Dodd. "Elon's talked about making one in 12 hours, which would be unheard of in the industry. Even if they make one a week that's pretty impressive."
It's also believed that methane could be available on the surface of Mars or elsewhere in space to be used as fuel – perhaps by mining water and carbon dioxide – known as in-situ resource utilisation (ISRU). "You could reasonably easily extract methane from the Martian surface, and potentially the lunar surface," says industry analyst Caleb Williams from the consulting firm SpaceWorks.

This is vital to SpaceX's goal of regular trips to and from Mars with Starship, allowing it to be almost self-sufficient in terms of fuel. "This has been the holy grail of Solar System access for humanity," says Garcia. "Because when you can refuel in space, now all of a sudden your propellant doesn't have to come from Earth."

Alongside these lofty claims, Raptor represents a large shift in SpaceX's ambitions from modest Earth-based launches to, potentially, exploration of the Solar System. Starhopper's recent test was a key step in the right direction, and if Raptor even partially lives up to some of its promises, the future could be very bright indeed. If SpaceX really do reach Mars, Raptor will have a huge part to play.

Raptor SpaceX Rocket Engine for Starship
Humans always need new frontiers. If all the great challenges and dreams are dead, then the way is clear for the oligarchs to run their dictatorial dystopias from now on out.
SpaceX is a different kind of spaceflight operation than we have ever seen. It is not owned and controlled by bureaucratic governments or one-party tyrannies such as communist China. It is run by a group of highly professional managers and engineers, led by a visionary technologist and dreamer, Elon Musk. This group does not want to stop at colonizing Mars. They want to go as far outward as their dream and their skills can take them. Will the despots of Earth governments let them do it? Watch and see.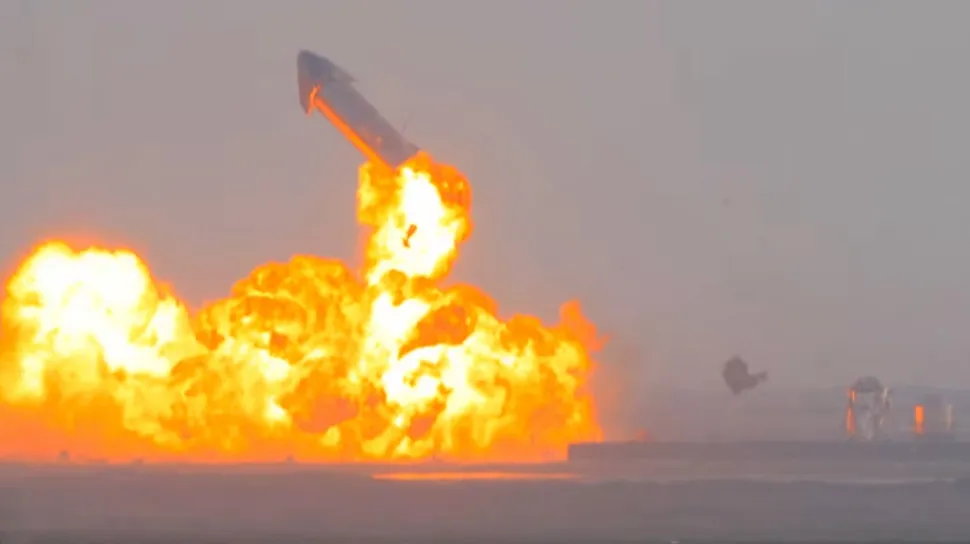 More:
SpaceX is iterating toward the final Starship spacecraft via a series of increasingly complex prototypes. For example, the first Starships to get off the ground were single-engine vehicles that flew about 500 feet (150 m) high. SN8, SN9 and SN10 all sported three Raptors, as well as forward and rear flaps for aerodynamic control, so they flew much higher.

SN10 put those flaps to use today as it soared through the South Texas skies. The vehicle performed a number of precise in-flight maneuvers, including a sustained hover at the 6.2-mile maximum altitude, a horizontal descent and a dramatic "landing flip" to get itself vertical in time for touchdown.

All of that happened a bit later in the day than SpaceX had planned. SN10 was originally scheduled to launch at 3:14 p.m. EST (1814 GMT) today, but that attempt was aborted just after engine ignition when the spacecraft's computer sensed something anomalous. The abort was caused by a "slightly conservative high thrust limit," Musk said via Twitter this afternoon. SpaceX soon increased that limit and got SN10 ready to fly just three hours later.

You Don't Get to Mars Without Exploding a Few Rockets